London's Alternative Rock Sensation: POLSKY's Electrifying Executive Functions
From the first notes of the album, you can feel the raw energy and talent that POLSKY brings to the table. Their sound is a blend of post-punk, alt-rock, and art rock, and it is contagious, to say the least.
Let me tell you about this incredible band called POLSKY that you absolutely have to check out! They are an independent artist based in the vibrant city of London, United Kingdom, and are shaking things up in the alternative rock/pop scene. The band's newest album, 'Executive Functions,' is a true masterpiece that deserves to be heard by any and all music lovers, regardless of their preferred genre.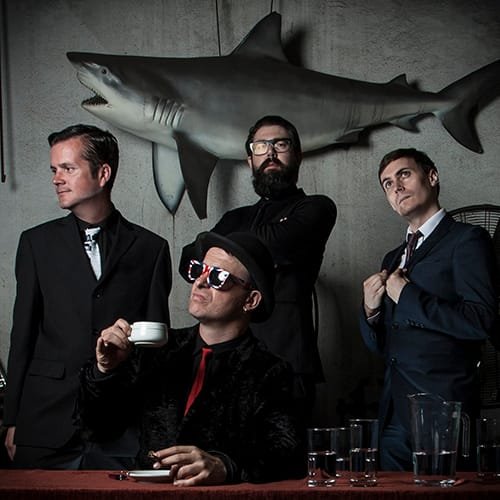 PolSky releasing Executive Functions
The album's unique blend of alternative rock and pop creates a sound that is both fresh and timeless, highlighting the band's incredible talent and creativity. Each song tells a story of its own, with raw and powerful lyrics that come together beautifully with POLSKY's instrumental skills. If you haven't heard of POLSKY yet, it's time to change that and discover their incredible music for yourself. 'Executive Functions' is a true must-listen that will leave a lasting impression on any music enthusiast.
You can listen to our full playlist which contains the artist's music, and know more about the artist's work by scrolling down the page.
---
When you immerse yourself in the electrifying world of POLSKY's music, you are instantly transported to a realm of intense euphoria and pure exhilaration. Their banger songs, carefully crafted to ignite the very essence of your being, offer a seamless fusion of anthemic melodies and invigorating rock-pop sounds. This unique combination envelopes you in an aura of undeniable edginess and elevates your spirits to unprecedented heights. With every pulsating beat and electrifying guitar riff, you can't help but surrender to the infectious energy that courses through your veins, leaving you craving more.
One of the tracks, "100 Million Ways To Die" is a super catchy tune that brings together a blend of synth indie rock and indie melodic pop rock. Once you listen to it, it will be stuck in your head all day long. It's a hit that is as accessible as any top 40 pop track but with that British Art Pop sensibility that reminds me of early Beck.
Now, experience the captivating visuals and electrifying 100 Million Ways To Die by Polsky Official Video:
If you are a fan of bands such as The Killers or Arctic Monkeys, then POLSKY will have you hooked in no time. Their music is a unique blend of British art pop and alternative rock that is sure to appeal to many fans of those genres.
Please do yourself a favour and check out POLSKY's music right away. They are worth following on Spotify, listening to their playlist, and visiting their website. This artist is going places, and you don't want to miss it.
---
Yearning to navigate the pulsating universe of Classic Rock, Alt Rock, and possibly something more? Immerse yourself in our music…
About Author