Playlist: Indie Rock Bands You Should Listen To Right Now If You're Tired Of The Same Old
You know how the old saying goes: if you're tired of something, you should try doing it yourself. And, I feel like that same logic can be applied to music and indie rock, in particular.
You're tired of hearing the same old stuff. Things are getting a little stale. You're getting bored and want something new to listen to. I know how you feel. I go through that too.
More specifically, if you're tired of listening to the same tired indie rock bands from your high school days, then give some new bands a chance to play their albums for you.
In case you haven't noticed, the indie rock music scene is exploding. As a result, the need for quality indie rock music is at an all-time high.
But finding new indie rock bands isn't easy — especially if you're stuck in a rut with your playlist. So I've decided to compile a list of some of our favourite indie rock music artists right now.
Hopefully, these bands will give you a boost in your search for great new music to put on your playlist. You can listen to our full playlist which contains the artists' music, and know more about their work by scrolling down the page.
---
1) UNDER DELUSION – Over The Rainbow
Under Delusion's single, "Over The Rainbow," is a rock ballad that combines elements of indie rock and melodic metal. The song has a strong sound with female vocals (which are often absent from rock bands), as well as an excellent melody with a catchy chorus.
Under Delusion's music draws inspiration from classic European culture, so it's no surprise that their single is reminiscent of modern European alternative rock music. It also has elements of emo and classic rock, which make for a very interesting mix.
The band is based in Moscow, Russia, so they have a unique sound that is influenced by Russian culture and history. This gives them an edge over other bands who are trying to get into the music scene right now.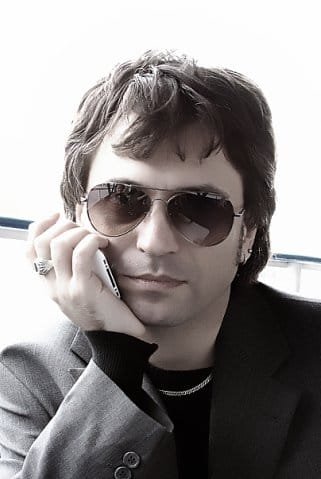 In particular, this song "Over The Rainbow" is dedicated to a friend and contributor to their project, Maxx Verkhovski, who passed away. Gone yet not forgotten!
If you want something new and different, check out Under Delusion, visit their website and follow them on Spotify!
---
2) HANGTIME – Walls
HANGTIME's Walls is a dark, industrial-tinged 3-track EP that is sure to take listeners on a trip through the artist's mind. I suggest you listen to the first song, Walls, put on your best headphones, close your eyes and enjoy it, this is a song for tripping.
The song begins with a drumbeat and sharp synth line before exploding into an electronic storm of glitchy sounds and distorted vocals. The song is full of art pop and hyper pop elements, which make it unique and suitable to fans of other rock subgenres.
The group is based in Socorro, US, but they've already started building a name for themselves in the indie scene. We can say this single is sure to be a hit among fans of dark wave, industrial, metal, electronic, glitch, art pop, dark pop, drum n bass and garage.
This single is definitely worth checking out! You can visit their SoundCloud and follow them on Spotify.
---
3) NIED'S HOTEL BAND – Take That Train
Nied's Hotel Band is a group of musicians from Pittsburgh, PA who make music that will take you on an emotional journey. Their latest single, "Take That Train," is a testament to this.
The song starts off with a slow and relaxing rhythm and blues sound that has its roots in the 1950s but still manages to stay relevant today. It's followed by a catchy melody that will have you singing along in no time. The vocals are smooth and soulful, while the guitar riffs are reminiscent of rock-n-roll classics like Led Zeppelin or The Beatles. Bruno Mars would be a good reference too.
The track ends with an anthemic chorus where all instruments come together to create one big ball of energy that just wants to burst out of your speakers and into your living room! This is definitely something you'll want to check out! Don't forget to, visit their website, watch their lyric video and follow the band on Spotify.
---
4) VOICE OF ADDICTION – Divided States
The rock and punk scene is alive and well in the United States. One of the most popular bands from Chicago is Voice of Addiction, an indie rock band that just released a new 13-track EP called "Divided States".
Think of a punk rock band with a high intellectual level. The song seems to be a political reference, but we recommend that you listen to the whole album in order to grasp the meaning!
The track Division Complex is explosive, but full of nostalgia for the 90s and early 2000s, with a modern twist. The vocals are raw and gritty like a classic punk band, but they have more of an emo sound to them.
This album will get stuck in your head immediately! Check out all songs on Spotify, visit their website and follow them on social media, or catch them live at one of their upcoming shows!
---
5) TY ARENA$ – Ghost Of You
If you're a fan of alt-rock, emo pop-punk and skater rock, then you'll want to check out TY ARENA$'s new single "Ghost Of You."
The song is an amazing blend of nostalgia-inducing pop-punk and punk rock that gives off an early 2000s vibe. As a result, it's perfect for those who grew up listening to bands like Blink 182 and Sum 41.
In addition to its nostalgic tone, the song also features some high-energy guitar riffs that add some extra energy to the already upbeat tune. And as if all this wasn't enough, there are even incredible male vocals thrown in for our total happiness, which are strong and powerful, but also vulnerable. Producers from PopHits.Co just loved it and described it as a radio-ready pop-punk!
The lyrics are nostalgic and sweet, making you feel like you're reliving your favourite memories over and over again. We cried while checking out their Spotify profile, but it wasn't because of the lyrics, it was because of the song cover, the girls' eyes are agonizing when they looked at it, which was so intriguing that became an internal joke. 
If you're looking for something jovial and new to listen to this summer then definitely give this track a try. Check it out, visit their SoundCloud and follow the band on Spotify!
---
6) OLLIE TWOHILL – Neverland
If you're a fan of pop-punk and skater rock, then you will love this new single from OLLIE TWOHILL. The Australian artist released Neverland on Spotify last week, and it is sure to be a hit with fans who miss the sound of their favourite emo bands from their high school days.
The song is catchy and nostalgic, with lyrics that will keep you singing along for days after listening. Listeners will be able to hear influences from bands like Blink 182, Green Day, and All Time Low (among others).
The single has an upbeat feel to it, but it also has some darker elements that might remind listeners of classic emo bands like Fall Out Boy or Panic! at the Disco.
If you're looking for something new to add to your rock and workout playlist or just want something catchy and fun to listen to while driving around town, then check out Neverland by OLLIE TWOHILL today. Visit their website and follow them on Spotify!
---
7) CEYEO – Machine Learning
The indie rock band CEYEO has just released their new 10-track album Machine Learning, and it's a must-listen for any fans of alternative, post-punk, prog rock, classic rock, singer-songwriter, or rock pop. Yes, even fans of Hip-Hop can take advantage of this amazing blend of genres.
The band is based in Chicago and their sound is also influenced by R&B features as well as hip-hop and rap—they mix US pop culture with heavy metal influences.
Think of a collection of good music for the whole year. The track "Broken" is heavier with male vocals, but "Trying" can be considered a great romantic or love song ballad with female vocals. While "Summer Love" brings rhythm n blues mixed with rap, "Not Better" delivers spoken word with heavy metal. Can you get the vision? It's a perfect music genre storm?
If you're looking for some attention-grabber and fresh new tunes, get them from an indie band that's doing something different with their sound and lyrics, check out CEYEO's Machine Learning, visit their website and follow them on Spotify!
---
8) LOS INCONFORMES – RRRatas
Los Inconformes are a group of rockers from Puerto Rico, San Juan. They just released their first single "RRRatas" and it's been getting a lot of attention.
The song is a blend of Latin influences, rap rock, punk rock, ska, skater rock, reggae, and even a bit of euphoric pop. The music has an edgy feel to it but is super catchy as well.
You can see yourself having a lot of fun and jumping with your friends while listening to it. Perfect for parties!
The male vocals are also very strong and have an anthem-like quality. The lyrics are in Spanish and present social and political criticisms to many of our political class worldwide, but it's still fun and powerful, which makes them even better!
If you love indie bands who are amazing at mixing different music genres or just want something new to listen to on your commute or at home, check out Los Inconformes' website and follow them on Spotify!
---
9) WILLDR – Bet I Will
The band WILLDR has released a new single, and it's a solid entry into the indie rock canon. It's got that classic sound, but with a modern twist. It's got the same sort of energy that we've come to expect from this band, but there are also some interesting elements that make it stand out among its peers.
The track opens with an intro that sounds like it could have been written in the great 1970s or 1980s—but then we get into some more modern guitar work and drumming that keeps things fresh.
The vocals are delivered by a male vocalist who has a classic rocker voice—and he does a great job of delivering them with energy and passion. We really enjoyed listening to it, it's super nostalgic and creates an amazing vibe!
If you're looking for something new to listen to, then this is one track worth checking out. Visit their website and follow the band on Spotify!
---
10) VENUSTRA – Hopping The Train
VENUSTRA is a band that's always been on the cutting edge of rock and roll. They're an alternative rock band from the United States, Austin, and this is the reason for the cultural mix. They make a kind of experimental music that also incorporates hard rock, gothic, heavy metal, and cinematic elements into their tunes.
They're known for their avant-garde sound and experimental style, which makes them a favourite among fans of art rock and melodic metal.
They recently released their new single "Hopping The Train," which has all the elements that make VENUSTRA so unique: male and female vocals, a strong beat, anthemic melodies… really just everything you'd expect from an explosive band like them!
If you like what you hear in "Hopping The Train" or any other VENUSTRA song, be sure to check out their website, follow them on Spotify, and go see them live!
---
Yearning to navigate the pulsating universe of Classic Rock, Alt Rock, and possibly something more? Immerse yourself in our music…
About Author